THE PLANE CRASH OF OLGIATE OLONA (ITALY) OF JUNE 26, 1959

website with the patronage of the
Municipality of Olgiate Olona
Greeting of Olgiate Olona mayor
On behalf of the people and the Municipality of Olgiate Olona I greet all of you who are reaching this website dedicated to the plane crash of June 26, 1959, the fifth worst disaster in civil Aviation in Italy.

Thanks to the enthusiastic commitment of its creators and supported by the patronage of the Municipality of Olgiate Olona, this website testifies all the knowledge of June 26, 1959 and outlines the initiatives and events - whose value and meaning were rewarded by the President of the Italian Republic in 2011 – animated worldwide by memory and solidarity which make the seventy lives immortal, those whose mortal body fell fatefully to the ground in Olgiate Olona and who are always alive in the hearts of their loved ones.

More and better than other signs this website attests that in Olgiate Olona the painful memory of the June 26, 1959 is capable of generating love for life: in the eyewitnesses of the plane crash as well as in the young students taking part in the educational project, in the relatives of the seventy immortal lives and in those who are honoring this page of history.

Seventy immortal lives silently accompany our journey not only in front of the memorial monument, at the ceremony of June 26 and in other occasions, but everyday thanks to the contents of this website.
Dr. Giovanni Montano
Olgiate Olona mayor
Organizers - Supporters - Collaborators - Manpower

Commemorative events of June 26, 1959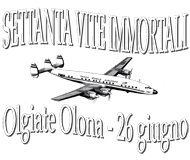 Organizing staff of the commemorative events
COORDINATORS: Alberto COLOMBO, Nicola PUDDU
Mayor Giovanni MONTANO
Supporters, technical sponsors, manpower
OLGIATE OLONA CIVIL PROTECTION
LIBRERIA NUOVA TERRA - Legnano
www.nuovaterra.it
ASSISTENZA E SICUREZZA - Olgiate Olona - Fabio CASAROTTO
FIORERIA ELZI - Olgiate Olona - Cinzia RABOLINI
WALLEY DESIGN engineering - Olgiate Olona - Roberto RAMBALDINI
www.walley-design.it
STUDIO FISIOTERAPICO OSTEOPATICO MELLINA MASSIMO - Olgiate Olona - Massimo Mellina
facebook page
CACCIA SERVICES - Olgiate Olona - Gaetano CARBONARA Nicola Caccia
www.onoranzefunebribusto.it
LABORATORIO MARCO COLOMBO SERVICE - Olgiate Olona - Marco COLOMBO
www.marcocolomboservice.it
LABORATORIO DI FALEGNAMERIA LEGNO E DINTORNI - Olgiate Olona - Giorgio OLGIATI
www.legnoedintorni.eu
FOTOEMMERRE - Olgiate Olona - Maurizio PORATELLI
www.fotoemmerre.it
GF SPELLING - Olgiate Olona - Fabio Genellina
SURSUM CORDA CHOIR - Busto Arsizio - Alessandra Torretta
www.xsursumcordax.it
AGRIEMPORIO MARNATESE and VERDE+ - Marnate - Alessio and Gianfranco ZANCHETTA
www.agriemporiomarnatese.it
LA COLOMBINA cornici d'arte - Olgiate Olona - Antonella COLOMBO
EDIZIONI COOPERATIVA LA MANO - Legnano - Sara RIBONI and Stefano CALZOLARI
www.cooplamano.it
G.A. IMBIANCATORE - Andrea Luigi GAGLIARDI
EDILCASA - Olgiate Olona - Salvatore CONIGLIARO
CERANA PAOLO Lattoniere - Olgiate Olona - Paolo CERANA
PI.ERRE SPORT - Busto Arsizio - Roberto PAULON
www.pierresport.it
HOTEL D120 - Olgiate Olona
www.hoteld120.com
OTTICA CALDIROLI - Olgiate Olona - Giancarlo and Valeria CALDIROLI - Valerio GRISETTI
www.otticacaldiroli.it
TONY HAIR FASHION acconciature - Olgiate Olona - Antonino Tony TARASCIO
FOR GOOD restaurant & lounge bar - Olgiate Olona - Giovanni VITALE – Vincenzo GIOIA
www.forgoodolgiate.com
RISTORANTE PIZZERIA CAPRI - Busto Arsizio - Gino SAVINO
www.capriristorante.it
ENRICO E CARLO LUALDI MARMI - Busto Arsizio - Monica LUALDI
www.lualdi.net
PASTICCERIA CHIARA - Olgiate Olona - Gianni, Chiara and Fabio LONGHIN
www.pasticceriachiara.it
ARCHIMEDIA - Olgiate Olona - Fabio MORONI
facebook page
Collaborators
Valeria ARINI, Federica BAÙ, Mario CANAVESI (1942-2020), Maria Grazia CATALDI, Eliseo CHIERICHETTI, Massimo CODECÀ, Anna COLOMBO, COOPERATIVA MASSIMO CARLETTI onlus, Diana CORÒ, Sara DONAGGIO, Silvia ELZI, Fabio FANTINATI, Maurizio FERRERO, Giuseppe Pinuccio GIANDUIA, Natale ILACQUA, Carlo LANDONI, Mario LOMAZZI, Chiara Lucia MILANI, Piero PEZZALDI, Paola PIOVESANA, Tiziano PROVASI, Eileen ROBINSON, Maria Pia ROGORA, Carla Giovanna ROSSI, Carlo ROSSI, Luigi SABELLA, Saverio SCARINCI, Annalisa SCHEPIS, Esmeralda SCHEPIS, Laura TESTA, Monica TESTA, Mayor Emeritus Giorgio VOLPI
Beato Contardo Ferrini Comprehensive School Olgiate Olona
Dante Alighieri first grade secondary school
school director Anselmo Pietro BOSELLO, director's deputy Donata CANAVESI
teachers Carla ANELLI, Maria Cristina GATTI, Laura BIANCHI, Elena ANTONINI, Alessandra CASTOLDI, Elisabetta FERACO, Paola GIANDUIA, Stefania IELPO, Lucia LANZA, Alfiuccia MUSUMECI
former school director Maria Alberta VIGNATI
former director's deputies Carla PAGANI, Agostino SPERONI
former teachers Luciana ALBA, Emanuela BERTONI, Claudia CASTANO, Paola PUCALIK, Graziella COLOMBO (1952-2015)